Need help logging in or accessing your resources?
Having trouble printing?
Get answers to FAQs and troubleshooting tips below.
What can we help you with?
General Questions
Where can I purchase your resources?
My resources are sold in my resource shop as well as at TeachersPayTeachers. Resources in both shops are identical. Sale prices may fluctuate from location to location due to sales or coupons available.
Are there any advantages to buying at yourwebsite.com vs TPT?
Yes!  I am able to offer special customer and product discounts in my own shop that TPT does not allow.
Each product listed, whether purchased in my shop or on TPT has identical content. The regular price of each resource is identical no matter where you purchase. Individual resource prices may fluctuate due to sales or coupons.
Sometimes my emails land in your junk or spam folder, especially if it's the first time you've gotten a message from me. If you don't see an email you're expecting, check there first. 
If you find the email in your spam or junk folder, mark it as "not spam" or move it to your inbox. Then add my email address to your contacts. This will help future emails arrive correctly. 
If you don't find the email in your spam or junk folder, submit a support request so I can troubleshoot this for you. You will receive a response in 1-2 business days.
Why do I need to use my PERSONAL email address instead of my SCHOOL email?
School email filters can be very strict and often block emails. This means you may not receive the receipt and download link for your purchases.
Using a personal email address ensures these important emails land in your inbox.
​Due to the digital nature of these products, once a resource is bought and downloaded, it cannot be returned or refunded.
Please ensure that you look carefully at what you are buying and read the details underneath each resource before you make a purchase. Your satisfaction means a lot to me and I will be happy to work with you, if you are unsatisfied.  
If you have a problem or question about your order, please submit a support request so I can assist you.
Can I share files with my teammates or teacher friends?
While I love that you'd like to share, it is against the Terms of Use to email or redistribute free or paid resources from my website or shop (as well as resources purchased on TeachersPayTeachers). Each resource is for single classroom or personal use only. 
You will be breaking copyright laws if you share the resources you have purchased or downloaded. This includes but is not limited to emailing files, uploading to shared drives and sharing logins.
If a colleague or friend would like a copy of the resource, I'd appreciate you sharing a link ​so they can purchase a single use license for themselves. Thank you for respecting my terms of use! 
Can you edit a resource to suit my needs better?
In general, resources in my shop are offered as is. Please read the resource description carefully to ensure that the resource meets your needs.
However, I do accept editing requests from time to time depending on the nature of the revision. If you would like to request a custom edit, please submit a support request. Please understand that not all custom edits will be accepted.
Account Support
You must have an account to purchase from my shop. You will create your account during the checkout process.
Once you have an account, you'll be able to view your past orders, access previous purchases, and update your details. You'll also be able to shop quickly as your information will be saved when you're logged in as a user.
How do I log in to my account?
You can access your account by clicking My Account in the menu at the top or at the bottom of the page.
Click the "Lost your Password" link on the My Account page. ​You will be prompted to enter your email address and then you will receive an email with a link to reset your password.
If you get an error saying your email address doesn't exist, you have likely entered your email address incorrectly during the account creation process. If that's the case, ​you'll need to send a support request so we can troubleshoot this for you.
I'm getting an​ 'invalid email or user' error.
You have likely entered your email address incorrectly during the account creation process or you registered using a different email address. Either way, ​you'll need to submit a support request so I can troubleshoot this for you. You will receive a response in 1-2 business days.
How can I change my account email address?
If you​'ve made a mistake, you can change your email address by logging into your account (using the incorrect email address) and then going to your account details in the dashboard.
However, if you know you've made a mistake but you're not sure of the spelling or error, submit a support request so I can troubleshoot this for you.
Purchasing and Payments
What payment methods do you accept?
We accept most major credit cards via Stripe payments. Stripe is one of the most widely trusted payment processors, used by many high-profile companies you already shop with, so you can rest assured your information is safe!
We also accept PayPal payments.
We do NOT accept personal checks or money orders.
How do I know my payment information is secure?
Payments are processed securely through Stripe. Stripe is a leader in online payment processing, and is trusted by large and small businesses across the world. 
All of your payment information is stored by Stripe, and we can only see the last 4 digits of your card number.
Do you accept purchase orders?
I am happy to accommodate purchase orders. Please submit a support request to initiate this process.
Where can I find receipts for all my purchases?
All of your purchases are store in your account. You can access the receipts  by logging in to your account and clicking Order History. 
Accessing your resources
How do I download my purchase?
There are three places to access your purchases:
Order confirmation page
Email receipt
Downloads page in your account
​After you have completed your purchase, you will be taken to an Order Confirmation page. You can download your purchase right away by clicking on the ​download button ​as pictured below. This will open your download in a new window which you can then save and/or open. ​
You'll also receive an email once your purchase is complete. The download button in your email will take you to your account where you'll need to log in using the details you provided ​during your account set up. ​​Once you log in, you can access all of your downloads by clicking My Downloads.

Do I have lifetime access to my purchases?
Absolutely! You can access your purchases anytime in your account. You'll have access for as long as the site is active, but it's always a good idea to save a copy to your computer or USB drive, just in case!
All you need to do is log into your account. Click on My Downloads, and you'll be able to download all of your purchases there. 
My purchase isn't appearing in my account. Why can't I access it?
This is usually because you have purchased your products using a different email address/account. If this happens, I can merge your accounts together. Just submit a support request with detailed information so it can be fixed for you.
​I'm having trouble downloading on my phone or device.
I am not able to provide support for downloading resources on mobile devices or tablets. Due to the wide variety of phones, tablets and devices available, I cannot test on every platform. Many mobile devices do not support the variety of file types used in my resources.
​I recommend that you download your purchases onto a computer or laptop. Please make sure you have a program that allows you to download and view PDF files on your computer.
"​That's not your ​download link" error
​In order to protect files from being shared illegally, all download links are protected so that only the person that purchased the product can use the link.
You may see this error message on a resource that you purchased if you click the download link in an email but are already signed into the site with a different email address or if you have forwarded the purchase email to another email address. 
If you encounter this error, simply visit the site and log in to your account. You can download all of your purchases on the My Downloads page.
Printing & Editing Issues
All files have been saved in high resolution ready for you to print either at home or via a printing company. Follow the steps below to print your PDF.
1. Click to download the file from your account.
2. Be sure to save the file to your desktop computer rather than just open the resource.
3. Open the file with Adobe Acrobat Reader. (You only need the free version!)
4. Select File>Print and then ​ensure the printer settings are correct.
I recommend printing at High Quality for the ​most accurate and highest print quality.​
My PDF file isn't printing correctly.
If you're having trouble printing a PDF, please be sure that you're opening the PDF with the latest version of Adobe Acrobat Reader. Printing PDF files from your web browser or the Preview app frequently cause errors such as black boxes behind images, fonts not printing correctly, etc.
1. Open the PDF file with Adobe Acrobat Reader
2. Click "Print"
3. In the "Page Sizing & Handling" section, select "Shrink Oversized Pages" if needed.
4. Click on "Advanced"
5. Check the "Print as Image" box.
6. Print the document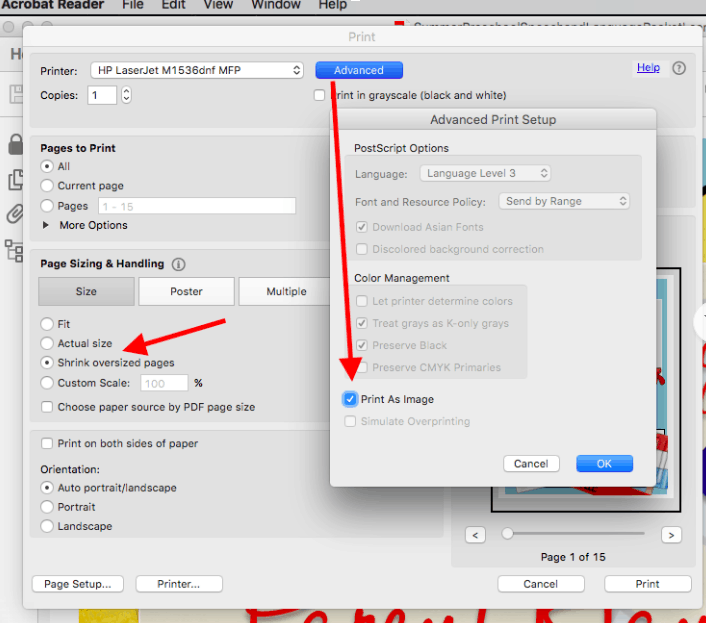 Part of my resource is being cut off when I print.
All resources are designed to be printed on 8.5×11 paper. Be sure to select 'fit to page' when printing your resource to ensure that important parts of the page aren't being cut off during the printing process.
IMPORTANT: Resources that are designed to be printed on Avery labels must be printed at actual size in order to line up correctly on the label sheet.
Support Request
If you didn't find the answer to your question on this page or still need help, submit a support request below.